2021 A-711 District Convention
REGISTRATION IS NOW OPEN:
Lions, Lionesses, and spouses can register for CDN $20.00 until April 8, 2021.
After that the entrance fee will be CDN $25.00. All fees are in Canadian Dollars.
LEOs will be allowed FREE entrance.
Check the Leo box on the Registration Form and you will need to fill in a form to verify your association with a LEO club to receive your exclusive ticket.
Hospitality Suites ($20) and Exhibitor Booths (Display Tables - $50) are available for the entire event, email your order to A711convention@gmail.com.
IMPORTANT: When registering you will be asked to provide your e-mail address AND to create a password. These will serve as your login to to the convention. The password is only used for the convention site and should not be one that you use for other purposes.
How to get around in the virtual convention
Convention FAQs & Instructions
FAQ-Attendee & Step by Step Instructions

Registration

Everyone / Registration — Step by Step Instructions

Lions District A711 Convention Registration page
After you sign in to hopin.com successfully, simply click on "Lions District A-711 Convention 2020-2021" in the middle of the screen to attend this event.
Our convention platform, Hopin, can handle as many attendees as we could imagine. So invite your social circle and share the above convention registration link to your FB friends! You may use it as a membership drive too!

Main Stage

Attendee / Main Stage — Step by Step Instructions

Sessions (Presentations, Workshops, Hospitality Suites)

Attendee / Sessions: Step by Step Instructions

Networking (with other attendees)

Attendee / Networking — Step by Step Instructions

FAQ-Moderator

Moderator Instructions

Speaker instructions

If it is a Moderated session, you will see attendees asking to join at the bottom of the video in the Moderator Panel. You get to choose who comes up on screen with you there.

When people request to join a live Booth, you'll see their name pop up in the Moderation panel below. Click their profile image to allow them to join. They then select their AV devices and will be on camera shortly. Click the RED button on their screen to remove them.

Sessions Tutorial

When a moderator is in a session, other attendees can click the button that says Request to Share Audio and Video. Clicking this button will open the moderation panel for the moderator to view who's requesting and click to add them to the video stream.

Once allowed, the speaker will choose their audio/video devices and then appear on camera. The moderator can take off speakers from the Session screen by clicking the Remove red circle icon.

Stage Tutorial

You'll see their profile pop up in the Moderation Panel. Click their face or initials to allow them on camera. When you allow someone on the Backstage, they select their audio and video devices and get a preview before joining, so there might be a small transition time.

Speakers-Organizers / Backstage: Step by Step Instructions

Speakers

Sharing your Powerpoint

Screenshare: Sharing Audio From Any Third-Party App

General Help

Short Guided Video Tutorials

General Helpdesk

Browser Compatibility for online events on Hopin

I'm having video/audio problems

Mobile App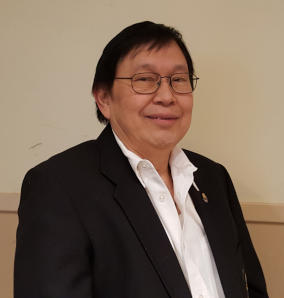 Every year, all Lions of our district elect the Cabinet Officers of the Incoming Lion Year. They are the Zone Chairpersons and the Region Chairpersons.
The Incoming District Governor looks for Lions who are interested in holding District Committee Chairpersons as well.
The next step after your presidency is to be involved at the district level for the continuance of your Leadership Development. Discover the new world of how you could apply the knowledge, experience, and skills you acquired at the club level. You are now prepared and ready to assume a more challenging position at the district level.
Similar to the feeling when you were elected president of your club, you might think working in the district is too much work and responsibilities. Actually, it is challenging but it gives you the opportunity to face and overcome some challenges you do not encounter at the club level.
We encourage you to join the District Management Team to learn more on how our organization works at a higher level.
Your sacrifices in helping our organization grow and realize our mission are most valued.
As a Past President, you are qualified to be a Zone Chairperson and a District Committee Chairperson or a member of a District Committee.
For the elected position of a Zone Chairperson, you need to fill up the 2021 District Nomination and Endorsement Form. The deadline for the submission of the Nomination and Endorsement Form is on March 16, 2021, which is 30 days before the opening of the District Convention.
For those Past Zone Chairpersons who would like to run for the office of Region Chairperson, please use the Nomination and Endorsement Form 2021, as well. The deadline for the submission of the Nomination and Endorsement Form 2021 is on March 16, 2021 which is 30 days before the opening of the District Convention.
For the District Committee Chairpersons, all you need to do is contact the following:
- Incoming District Governor, Lion Year 2021-2022
- Global Leadership Team Coordinator
We will be delighted to hear which of these opportunities catches your eyes and imagination.
Stay safe and healthy.
Parade of Banners
Our 2021 District Convention is fast approaching. Unfortunately, this event might be done virtually again because of the lingering pandemic. Nobody knows if we will be allowed to convene safely at the time of the convention which will be from April 16 to 18, 2021.
One exciting event during the opening of the district convention is the colorful Parade of Club Banners where the clubs of our district proudly walk with their Club Banners showing various Recognition Patches for the services the club members have done.
We are going to do this parade Virtually and would like all the clubs to please help us make this event a successful one. Here is what we would like to ask each CLUB to do.
We would like to ask each lion and Leo Clubs to send us a picture of their club with two Lions/Leos holding the banner standing on both sides. While we are calling each club, we will show their Club Banner.
We would appreciate if all the clubs could please start sending us these pictures as soon as possible.
We have to prepare the electronic presentation which involves around 90 clubs.
Please send your Pictures to the following Parade of Banners Committee members. ASAP
Thanks so much for your cooperation!